We're joining with the Internal Revenue Service to urge caution among US taxpayers this season, recommending anti-identity theft measures that include using strong passwords, maintaining security software, avoiding phishing scams, and limiting access to personal data by using encrypted sites only.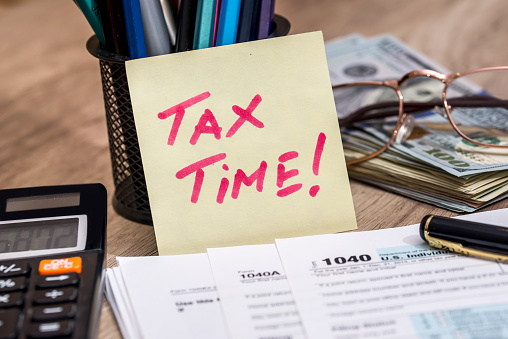 As part of our effort to provide technology guidance and IT support to professional high-tech experts and general business computer users alike, we advise each of our clients to take comprehensive measures to protect personal information online.
The Identity Threat Dangers of Tax Time
More and more people are discovering the ease and convenience of filing their taxes online. Although the majority of these online transactions have proven to be as safe as they are efficient, precautions are always in order when uploading personal financial data on the Internet. Be sure to protect yourself from identity theft this tax season before your sensitive information ends up in the wrong hands.
The IRS Releases Annual Tips to Protect Sensitive Information Online
We have joined with the Internal Revenue Service to urge caution among US taxpayers this season. As part of its sixth annual Tax Time Guide, the IRS urges taxpayers to be safe online by taking specific steps to guard against identity theft, such as…
Using Strong Passwords – Choose relatively long passwords of at least 10 characters that include a mix of letters, numbers and special characters. Use different passwords for different accounts and avoid passwords that include predictable sequences such as your name or birthdate.
Maintaining Security Software – Pay close attention to the firewall and anti-virus settings on your computer. Check with the specifics of your computer hardware and operating system to ensure that you are protected from threats such as Trojans, spyware, and adware.
Avoiding Phishing Scams – The easiest way to gain access to financial information is to trick people into supplying it voluntarily. Phishing scams present phony online identities that users mistake for legitimate organizations such as banks, credit card companies, or even the IRS. To protect yourself from phishing scams, think twice before supplying sensitive information such as social security numbers online. You should also avoid opening a link or an attachment from a suspicious email because these emails often contain malware.
Provide Personal Information on Encrypted Websites Only – When filing your taxes online, make sure that the site you are using is fully encrypted. This prevents hackers from gaining access to your sensitive personal data. To find out if a particular site is encrypted, look for "https" at the beginning of its URL address. The "s" in "https" stands for secure. Ensure that "https" appears in the address bar of every page as you enter your financial information.
For More Information
Of course, the best way to protect your sensitive personal information is to seek the assistance of a trained professional. Let us help you as you help your clients to avoid identity theft this tax season. Contact Spade Technology via email at info@spadetechnology.com to get in touch with a qualified IT professional in the city of Mansfield. Interested parties can also reach Spade Technology by phone by calling (508) 339-5163.