How to Keep Mobile Phones Safe from Hackers and Theft
For starters, you will want to very regularly back-up your mobile phone's data, which will mitigate your worry about data exploitation or loss in case of something like a malware or virus attack. Also, keep your mobile device's software and applications updated and upgraded wherever possible. You can also streamline your phone's performance (allowing your cybersecurity tools to work more efficiently) by deleting those apps you no longer use. Also, certain apps can reveal your location via GPS coordinates and collect data about you, so make sure your data-sharing allowances are on the temporary setting. All these things and more will keep your mobile phone safe from hackers and theft.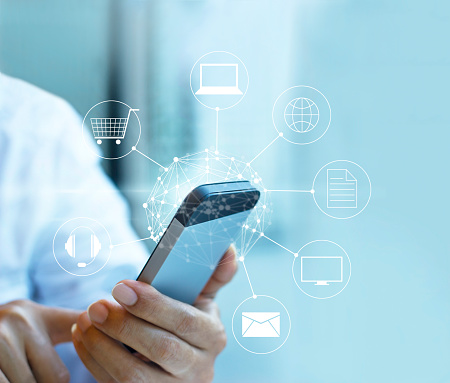 Password Protection
You will also want to enable your mobile device's password-protect function, which can also be a biometric authentication tool like a fingerprint scan. If your phone has more than one type of authentication, use any and all of them, in case your phone is stolen.
Public Wi-Fi Security
You should never make financial transactions using a public Wi-Fi connection, such as those at airports, libraries, and coffeehouses, but if you absolutely must, it would be wise to use a Virtual Private Network (VPN) or Cellular Data Network. Hackers have specially-built malware and spyware that is capable of monitoring and intercepting all user activity across public Wi-Fi hotspots, and are even able to record every keystroke. Because of this, it's easy for them to retrieve usernames and passwords for emails and online bank accounts. Hackers can even access records and files stored on your smartphone memory.
Further Security Suggestions
Your physical location can be tracked via Wi-Fi and Bluetooth functions being on when not in use, and seeking wireless networks to connect to. It's advisable, then, to turn off all app functions that can reveal your location or transmit personally-identifiable info about you. Be sure, likewise, that all of your social media account settings that show your physical location are turned off. Also, utilizing the remote wipe feature on your mobile device allows you to delete its contents or files without the phone being in your hand, which comes in handy in the event of a theft. You will also want to immediately enable the Find My Phone or Find My Mobile feature, in case your device slips inside hard-to-access spaces such as between your car seat and console and you lose track of it.
Reasons for Rampant Smartphone (and Data) Theft
Mobile phones are most often accessing the Web via public networks, making them especially vulnerable to black hat hackers and data thieves. Also, mobile phone users are seen as choice targets of cybercriminals because 1) Almost everyone has one, and 2) Many smartphone users are seen as affluent, making many financial transactions and personally-identifiable communications using them which can be lucrative for hackers. It's all too easy for hackers to jump onto unsecured public Wi-Fi connections and parse the sensitive data being sent back and forth by many millions of unwitting mobile device owners.
Get Better Mobile Device Security
Keep your mobile phone and its data safe from hackers and thieves by taking these steps. You can also inquire with an IT specialist on Mobile Device Management (MDM) for yourself or your office staff. If you need further advice about smartphone safety and security, Spade Technology is a proven leader in providing IT consulting and cybersecurity in Mansfield. Contact an IT expert at (508) 332-4849 or send us an email at info@spadetechnology.com today, and we can help you with all of your mobile device safety, defense, and security questions or needs.